We at Wild Rides Inc. would like to thank you for choosing our products. We have been building quality race cars and restoring classics full time since 1993 and have decided to share some of these products with the masses through our ever expanding line of mail order parts.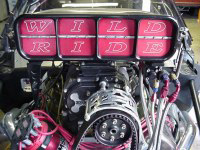 All of the pieces we offer are the same that we use in our own high quality race cars. This means that you are getting true quality (functional) parts that are track tested and through our experience, have proven to be the best of their kind.
Because we build custom parts in our shop every day, Wild Rides welcomes special requests for your custom needs. Please keep in mind that although most of the products in this site are geared towards the 5.0 Mustang market, we work on all makes and models, domestic and foreign, in our chassis shop. Our in-house services include frame connectors, roll cages, stock suspension upgrades (i.e. aftermarket control arm installations/bushings replaced), back halves, front halves, full tube chassis (mild steel or chrome moly ), 25.1C legal chassis, 25.2 legal 10.5 Outlaw cars, and chassis upgrades, high quality sheet metal and frame restorations, 3″ to 5″ race exhaust systems, brake system upgrades, custom made headers, and much more.
If that is not enough, the biggest advantage to purchasing from Wild Rides Inc. will be the experienced help you will receive in choosing the correct parts for your combination and technical help on installations and on-track tuning.